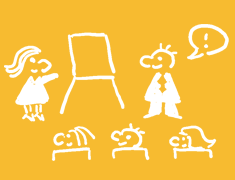 Stimuli for a good start and sustainable success
Well-founded planning and business management know-how form the beginning of every project. In addition, difficult communication situations, healthy working in change processes, complex decisions or the solution-oriented handling of conflicts are topics that keep us busy as managers, founders or entrepreneurs. The positive feedback from seminars and lectures show me that it is always worth working on sustainable and long-term successful solutions.
Know-how meets infotainment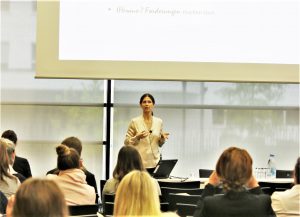 Why can't knowledge transfer also be fun? In my seminars and lectures I like to work with playful elements, visualisations and memorable examples from practice, which make the topic clear, understandable and "memorable". A broad range of methods provides variety, increases motivation and enhances receptiveness. An open and appreciative working atmosphere suddenly makes weighty topics much easier.
Open seminars, webinars and lectures
Open seminars/workshops as a one-day/multi-day event:
Women Go Business/We Go Business: Basics for the start into self-employment & all important information about the business plan (2 days) – also as webinar ( 3 evenings)
Healthy leadership in complexity and change: Reflective, mindful and successful in a changed leadership role (educational leave, 3 days)
Impulse lecture 30 or 60 min, optionally with subsequent discussion; choice of topics:
Leadership as a company health factor   –   Healthy living and working in change processes   –   Foundation & company development