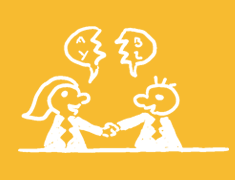 Key factor communication
We communicate constantly, even when we say nothing – consciously or subconsciously. You address your customers directly or via employees, you discuss strategies and organisation in the company, you coordinate with colleagues. The challenge is always to communicate in an understandable way and at the same time perceive what the other person means. Success depends on successful meetings – or after the meeting nothing has changed compared to before the meeting. Learn how to communicate in a connecting and results-oriented way – for communication instead of complication.
Language and patterns – Speech guides us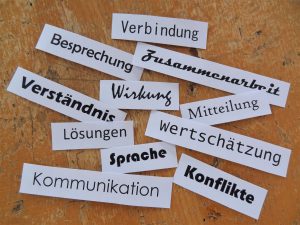 Our thoughts and views shape us more than we often notice ourselves. It is here that we decide how we evaluate situations, from which further communication develops. The clearer these processes are, the better we can concentrate on what we want to express and achieve. Work on the sender-receiver theme – train your perception and develop your competence for positive communication. As a systemic coach and mediator, I will put my knowledge at your side and create new communicational approaches together with you.
Contents etc.:
Basics & pitfalls in communication
Own shares: what do I transmit consciously / unconsciously?
Styles of conversation & empathy
Conflict management
Communication in change processes
This is aimed at all those who want to expand their communication skills in individual coaching, as a team or in group training. Also as mediation and individual consultation in conflict/decision situations.